AT&T Phone Number
Call AT&T customer service faster with GetHuman
Current Wait:
18 min
&nbsp
(13m avg)
Hours: Mon-Fri 8am-6pm EST; best time to call: 8:15am
Get targeted help: Tell us the issue so we get you to right rep, offer relevant tips, reminders & follow-up!
Get to a live person fastest:
Entrez le n ° de téléphone ou appuyez sur 1, puis 3, puis 7, puis 0, puis 4, puis 2, puis 1 OU Appuyez sur 0 # chaque fois qu'il vous demande votre numéro de téléphone
Reasons customers like you called recently
I want to switch over the phone (POTS), to VOIP and fid out about the charge difference.
No issue! Just need to send back a new remote
I want to go back to paper bills mailed to my home. It's the same address.
need to manually unlock a phone from att account doesn't work online at all
About * days ago I signed up for service with AT&T and bought one of their phones, putt...
Why hasn't my old mobile phone credit been credited yet?
Hi how can I set my gethuman for the first time
Wifi not working for * days. Need it to get back up and running asap for work.
Line repair -*** ***-**** *Line has static….
The signal from my fiber optic router is dropping out constantly. I've already tried r...
I got offered a good deal from T-Mobile and I want to see if AT&T has a better deal for...
Payed my bill but didn't get confirmation or amount paid, please send confirmation
New phone wont transfer data from old phone
Terrible cell service.. ii have full bars and lte yet drops calls, can't make calls, in...
I canceled you WOKE aholes and you charged my bank account for service I no longer have...
See more recent reasons for calling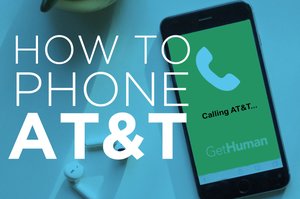 Our Editor's Notes on AT&T's Phone-Based Customer Care
AT&T is a telecommunications, home security, Internet and cable TV provider. As the largest telecommunications company in the world, AT&T maintains a comprehensive customer support system to meet its customer's needs. Many customers strongly prefer to contact AT&T over the phone for a direct conversation with a customer service representative.
Why do People Call AT&T Customer Service?
People call AT&T for many reasons, including:
Starting, changing or canceling services
Purchasing and upgrading devices
Technical support
Scheduling service and installation visits
Learning how to return or drop off devices and equipment
Contacting the Right Division
AT&T offers multiple services, including mobile and landline phone service, security, Internet service, and both satellite and cable television. Some of these services are offered under specific brand names such as DirecTV and U-Verse. When contacting AT&T customer service by phone, make sure that you are calling the number for the division or service you need help with.
Another thing to consider when locating phone numbers for AT&T is that some divisions have different numbers for different types of services.
For example, there may be separate toll-free numbers for new service requests, billing questions and technical support. Each number may also be taking calls during different hours. Checking this information before calling can save you time and frustration.
Tips for Calling AT&T Customer Service
Before calling AT&T customer support, make sure you have your account number handy. You can find it on your bill or via your dashboard on AT&T's website.
Each AT&T service or division has different call center hours, so it's a good idea to check ahead of time so that you know when to call.
AT&T does offer phone support for people with disabilities, including TTY calling for those who are deaf or hearing impaired.
How do People Feel About AT&T Customer Service Calls?
There are numerous reports online from people who are unhappy with AT&T phone-based customer service. Complaints range from long wait times to inaccurate information provided by a representative to promises not kept. There are, however, many other reports from consumers who are pleased with the customer care that they've received from AT&T representatives.
Media Cases
One newspaper documented a case in which a long-time customer of AT&T asked for an extension on his auto-pay due to a family illness that had depleted his checking account. An AT&T phone representative granted the extension, but the account was still charged, resulting in large fees.
In another case, a customer relocated and wanted to transfer her AT&T services. AT&T responded by canceling her current loyalty points, sending her multiple bills for services instead of one consolidated bill. She ended up spending hours of her time on hold with AT&T phone-based customer service, and her issues still were not resolved despite many promises.
What Issues Can AT&T Customer Service Resolve Over the Phone?
AT&T can resolve many consumer issues over the phone, including technical support, billing issues, selecting different packages and starting or ending service. Issues that aren't so easily resolved via phone include problems with malfunctioning and aged equipment and devices. These items will have to be brought or shipped to a service center for repair or replacement.
What Can I do if I am Dissatisfied with AT&T Phone-Based Customer Service?
If you've hung up the phone after a call to AT&T customer service and feel demoralized because your case was not resolved, don't fret. There are other ways off addressing your concerns.
You might first want to write down what happened during your last call. Then, write out a description of your problem and your desired resolution. Having this information in writing can help you explain your situation to other customer service specialists when you talk to them.
From there, consider these options for addressing your concerns:
Try calling AT&T back: In some cases, the training and experience of a customer representative can make a huge difference when it comes to customer satisfaction. If your first call didn't resolve the matter, dial AT&T again. A different representative may be better able to understand your concerns and get your situation resolved.
Consider live chat: AT&T offers live chat through its website and app. If you feel that you express yourself better in writing, or want a written record of your conversation with a customer service representative, live chat might be your best option.
Reach out over social media: AT&T has accounts on several social media platforms. You can connect with a specialist who can research your issue and help you get matters sorted out. As with live chat, you'll also have a record of your conversation, which may be useful if you have to escalate your case.
Visit an AT&T retail store: A face-to-face consultation with a store associate may resolve your issue. In addition, visiting a store may be the best way to get hands-on technical support for equipment or devices.
Customer Number 800-331-0500 - by the Numbers
Numéro de téléphone à composer800-331-0500
Rappel possibleOUI
Appel intercepté par une personne réelleOUI
Département que vous appelezService client et comptes professionnels
Heures d'ouverture du centre d'appelsMon-Fri 8am-6pm EST
Meilleur moment pour composer8 h 15
Naviguer dans un labyrinthe téléphonique vers un être humainEntrez le n ° de téléphone ou appuyez sur 1, puis 3, puis 7, puis 0, puis 4, puis 2, puis 1 OU Appuyez sur 0 # chaque fois qu'il vous demande votre numéro de téléphone
Attente moyenne
Attente actuelle18
Classement (parmi les numéros de téléphone)1
Rang (global)1
Méthodes alternativestéléphone, e-mail, facebook, web, twitter
Qualité de la communication34%
Qualité de l'aide31%
Votes des clients48,676
Dernière mise à jour des informationsThu Feb 02 2023 10:00:00 GMT+0000 (Coordinated Universal Time)
AT&T's Best Toll-Free/800 Customer Phone Number
Il s'agit du meilleur numéro de téléphone de AT&T, de l'attente actuelle en temps réel et des outils permettant de passer directement à travers ces lignes téléphoniques pour accéder directement à un AT&T agent. Ce numéro de téléphone est le meilleur numéro de téléphone de AT&T car 220,254 des clients comme vous ont utilisé ces coordonnées au cours des 18 derniers mois et nous ont fait part de leurs commentaires. Les problèmes courants traités par l'unité de service client qui répond aux appels au 800-331-0500 incluent Cancel Service, Service Outage, Device Support, Dispute a Charge, Change Service et d'autres problèmes de service client. Le AT&T centre d'appels auquel vous appelez a des employés de California, Florida, Georgia, Idaho, Iowa, Louisiana, Missouri, Montana, Oklahoma, Philippines, Texas et est ouvert Mon-Fri 8am-6pm EST selon les clients. Au total, AT&T possède 19 numéros de téléphone. La meilleure façon de parler aux AT&T représentants n'est pas toujours claire. Nous avons donc commencé à compiler ces informations à partir des suggestions de la communauté des clients. Continuez à partager vos expériences afin que nous puissions continuer à améliorer cette ressource gratuite.
Contacting AT&T - by phone or otherwise
Bien que 800-331-0500 soit le meilleur numéro sans frais de AT&T, il existe 23 différentes façons de les contacter. Selon d'autres clients AT&T, la meilleure façon de parler à leur équipe d'assistance client consiste à appeler leur 800-756-0134 numéro de téléphone nouveaux clients. Outre les appels, la prochaine option préférée des clients qui recherchent de l'aide est via 800-756-0134 pour nouveaux clients. Si vous pensez que ces informations sont inexactes ou si vous connaissez d'autres moyens de contacter AT&T, veuillez nous en informer afin que nous puissions les partager avec d'autres clients. And you can click here if you want to compare all the contact information we've gathered for AT&T.
What is GetHuman's Relationship to AT&T?
In short, the two companies are not related. GetHuman builds free tools and shares information amongst customers of companies like AT&T. For large companies that includes tools such as our GetHuman Phone, which allows you to call a company but skip the part where you wait on the line listening to their call technology music. We've created these shortcuts and apps to try to help customers like you (and ourselves!) navigate the messy phone menus, hold times, and confusion with customer service, especially with larger companies. And as long as you keep sharing it with your friends and loved ones, we'll keep doing it.