DirecTV Phone Number
Call DirecTV customer service faster with GetHuman
Current Wait:
36 min
&nbsp
(11m avg)
Hours: 24 hours, 7 days; best time to call: 10:15am
Get targeted help: Tell us the issue so we get you to right rep, offer relevant tips, reminders & follow-up!
Get to a live person fastest:
Appuyez sur 2 pour commander un nouveau service, appuyez sur 1 pour le service client ou appuyez sur 3 pour écouter les promotions en cours
Reasons customers like you called recently
I want to opt in for the A&E, History and Lifetime channels, as suggested on your Direc...
I need to return equipment to what address or last week your supposed to have sent retu...
My dad still has not received his DirecTv upgrade or whatever it was that he was told...
I need to disconnect service
I tried for almost * hour online and calling, no luck! I need to be removed from DTV s...
I keep getting *** error code. I can't watch any channel. I have reset the system a few...
I want to opt in on A&E, Lifetime, History & Vice.
Tv will not turn on with box
I need to cancel my payment arrangement for tomorrow. I just paid today instead. Please
Received voice mail that my account is available for **% off.
I want to opt in on A& E, Lifetime, History, & Vice. I received a card saying I could o...
Our tv drops video but still plays audio every so often. It's been doing this since we...
I want to opt in to a*e history lifetime and vice channels
I RECEIVED A CARD ON NOVEMBER *, **** STATING THAT IF I WANT TO CONTINUE TO RECEIVE THE...
i am also confused on how to opt-in to keep the channels directv is eliminating. the ch...
See more recent reasons for calling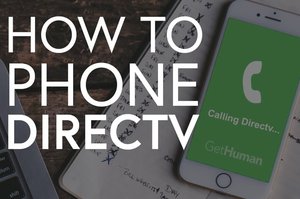 Our Editor's Notes on DirecTV's Phone-Based Customer Care
DirecTV is a provider of satellite television services. Acquired by AT&T in 2015, DirecTV has over 20 million subscribers. Prospective and current customers have the option of setting up new accounts or managing their current services using DirecTV's telephone customer service.
Why Do Consumers Call DirecTV Customer Support?
Consumers call DirecTV customer service for a range of reasons, including:
Ordering new service
Changing or canceling service
Technical issues with current service
Billing issues
While many of these issues can be managed online, some customers prefer speaking with a live person. DirecTV understands this and offers extended hours for customer service calls every day of the week.
When is DirecTV Customer Service Available by Phone?
General customer service and new customer set-up are available every day from 8 am to 12 am eastern time. Technical support is available 24 hours a day, seven days a week. Telecommunication Relay Service (TRS) is also available. This information applies to residential accounts: Business accounts are set up and serviced by a different division.
How Do People Feel About DirecTV Phone Customer Service?
At one time DirecTV was well known for high levels of customer satisfaction and there are many reports online from DirecTV users who are happy with their overall service, as well as their experience with phone-based DirecTV customer service.
On the other hand, some feel that the quality has slipped since the AT&T merger. Some individuals have complained that DirecTV customer service does not provide consistent care to its customers.
Another complaint is that the DirecTV phone systems do not keep appropriate records of calls. Failure to keep detailed call logs can result in customers having to tell their "story" to multiple agents, which can be frustrating.
Media Reports
There have been some media reports about DirecTV offering pay-per-view and sports channel deals and then not honoring the deal, charging the customer instead. In one case, a customer was promised a free sports channel and was charged for it. After requesting cancelation of service, the customer was charged an early termination fee.
Another case involved a customer whose roof was damaged by DirecTV. DirecTV offered to pay for repairs but repeatedly ignored requests for compensation after the customer had hired the approved contractor and paid the repair bill herself. Telephone representatives were particularly inept at handling the case, promising to call back and failing to do so.
In these cases, DirecTV was eventually able to work things out with customers, though third parties had to get involved.
What Kind of Issues can DirecTV Customers Handle Over the Phone?
Many issues, including technical and equipment problems, can be managed via DirecTV's customer service call center. These issues include:
Setting up and changing service
Canceling service and arranging for equipment return
Billing issues
Reports of technical and equipment issues, such as poor reception or sound
Scheduling technician appointments
What Can't be Managed Over the Phone?
While many reception issues can be diagnosed and addressed remotely, others require repairs or equipment replacement. In such cases, a phone representative will help to arrange for a technician visit or a way to send back malfunctioning equipment.
Technical Support Phone Tips
DirecTV advises callers with technical support questions to call from a room where they can be in front of their television set with a receiver in hand. This makes it easier for the representative to work with the caller to determine and, hopefully, resolve any issues with reception and equipment.
General Support Tips
Like many companies, DirecTV can use caller ID to identify you when calling, provided that your phone number is associated with your account. In cases where you are calling from a phone that is not associated with your account, it can be helpful if you have a recent bill handy so that you can provide the representative with your account number.
What Can You Do if DirecTV Phone Reps Can't Help?
Sometimes, and despite your best efforts, you may find it impossible to get your issues resolved with DirecTV over the phone. If you are in this situation, don't fret: You have other options for communicating with DirecTV customer service.
Visit the DirecTV website and request a live chat or post your issue on the site's community forum. Text-based communication has the advantage of providing you with a paper trail, which might be useful in further conversations.
Contact DirecTV on Twitter or Facebook. DirectTV customer service is managed on Twitter by @ATTHelp. As with live chat or community forum posts, social media communication can provide you with a written record of your communications.
Visit an AT&T retail store in your area. Call in advance if you need to set an appointment, or to clarify that their staff can work with you on a DirecTV issue.
Another option is to call back. Customer service representatives are individuals and some may be better than others at understanding and resolving your concerns.
Customer Number 888-238-3712 - by the Numbers
Numéro de téléphone à composer888-238-3712
Rappel possibleOUI
Appel intercepté par une personne réelleOUI
Département que vous appelezService Clients
Heures d'ouverture du centre d'appels24 heures, 7 jours
Meilleur moment pour composer10 h 15
Naviguer dans un labyrinthe téléphonique vers un être humainAppuyez sur 2 pour commander un nouveau service, appuyez sur 1 pour le service client ou appuyez sur 3 pour écouter les promotions en cours
Attente moyenne
Attente actuelle36
Classement (parmi les numéros de téléphone)1
Rang (global)1
Méthodes alternativestéléphone, chat, facebook, twitter, web
Qualité de la communication41%
Qualité de l'aide64%
Votes des clients74,413
Dernière mise à jour des informationsFri Nov 26 2021 10:00:00 GMT+0000 (Coordinated Universal Time)
DirecTV's Best Toll-Free/800 Customer Phone Number
Il s'agit du meilleur numéro de téléphone de DirecTV, de l'attente actuelle en temps réel et des outils permettant de passer directement à travers ces lignes téléphoniques pour accéder directement à un DirecTV agent. Ce numéro de téléphone est le meilleur numéro de téléphone de DirecTV car 226,548 des clients comme vous ont utilisé ces coordonnées au cours des 18 derniers mois et nous ont fait part de leurs commentaires. Les problèmes courants traités par l'unité de service client qui répond aux appels au 888-238-3712 incluent Cancel Account, Dispute a Charge, Service Outage, Technical Support, Payment Inquiry et d'autres problèmes de service client. Le DirecTV centre d'appels auquel vous appelez a des employés de Colorado, Idaho, Montana, Texas, Oklahoma, Philippines et est ouvert 24 hours, 7 days selon les clients. Au total, DirecTV possède 7 numéros de téléphone. La meilleure façon de parler aux DirecTV représentants n'est pas toujours claire. Nous avons donc commencé à compiler ces informations à partir des suggestions de la communauté des clients. Continuez à partager vos expériences afin que nous puissions continuer à améliorer cette ressource gratuite.
Contacting DirecTV - by phone or otherwise
Bien que 888-238-3712 soit le meilleur numéro sans frais de DirecTV, il existe 11 différentes façons de les contacter. Selon d'autres clients DirecTV, la meilleure façon de parler à leur équipe d'assistance client consiste à appeler leur 800-531-5000 numéro de téléphone Service Clients. Outre les appels, la prochaine option préférée des clients qui recherchent de l'aide est via 800-531-5000 pour Service Clients. Si vous pensez que ces informations sont inexactes ou si vous connaissez d'autres moyens de contacter DirecTV, veuillez nous en informer afin que nous puissions les partager avec d'autres clients. And you can click here if you want to compare all the contact information we've gathered for DirecTV.
What is GetHuman's Relationship to DirecTV?
In short, the two companies are not related. GetHuman builds free tools and shares information amongst customers of companies like DirecTV. For large companies that includes tools such as our GetHuman Phone, which allows you to call a company but skip the part where you wait on the line listening to their call technology music. We've created these shortcuts and apps to try to help customers like you (and ourselves!) navigate the messy phone menus, hold times, and confusion with customer service, especially with larger companies. And as long as you keep sharing it with your friends and loved ones, we'll keep doing it.